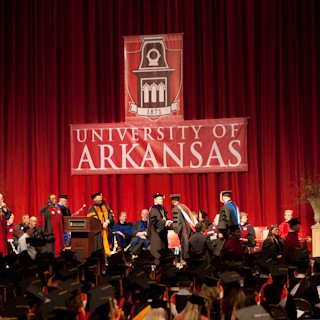 Welcome to the Faculty Regalia Registration Home Page for
University of Arkansas - Faculty
Website Ordering Dates: February 3rd, 2020 @ 9:00 a.m. (CST) – March 30th, 2020 @ 11:59 pm (CST).
2020 FALL COMMENCEMENT DETAILS
For complete commencement details, please visit https://uofastore.com/graduate/ "Faculty".
Commencement/School Listing
Date
Location
J. William Fulbright College of Arts & Sciences
Friday, May 8th, 3:00pm
Bud Walton Arena
All University Commencement
Saturday, May 9th, 8:30am
Bud Walton Arena
College of Engineering
Saturday, May 9th, 12:00pm
Barnhill Arena
Sam M. Walton College of Business
Saturday, May 9th, 1:00pm
Bud Walton Arena
Fay Jones School of Architecture & Design
Saturday, May 9th, 1:00pm
Faulkner Performing Arts Center
Dale Bumpers College of Agricultural, Food & Life Sciences
Saturday, May 9th, 3:30pm
Barnhill Arena
College of Education and Health Professions
Saturday, May 9th, 5:30pm
Bud Walton Arena
School of Law
Saturday, May 16th, 2:00pm
Walton Arts Center
EMAIL ORDER CONFIRMATION
You will receive an email once your regalia registration is complete.
The email will be from Build a Grad. This email order confirmation contains all the necessary details regarding your regalia order. Your Order Number will be on this order confirmation.
ORDER PICK-UP INSTRUCTIONS
| | |
| --- | --- |
| On Campus Pick-Up | Faculty may pick up their regalia order at the University of Arkansas Bookstore. |
ORDER DROP-OFF INSTRUCTIONS
| | |
| --- | --- |
| On Campus Drop-Off | Faculty rental regalia must be returned to the bookstore by May 21st. **Missed deadlines will incur late fees.** |
HOW TO WEAR A GOWN AND HOOD
CONTACT US
Regalia services for University of Arkansas - Faculty are provided by Balfour
If you have any questions or if we can be of any assistance, please contact us.

If you need assistance or have any questions,
please contact us at 1-800-683-4771 from 8:30 a.m. to 4:30 p.m. (CST), Monday-Friday
or email us at

[email protected]

.

To better serve you, please include your name, the institution name you are attending and a short message regarding your concern.
We will get back to you as soon as possible.

Thank you!
Continue