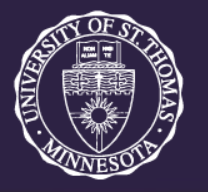 Welcome to the Regalia Registration Home Page for
University of St. Thomas - Minnesota
Website Opening Date:
February 20th, 2023 at 8:00 a.m. – March 12th, 2023 at 11:59 p.m.
CEREMONY DETAILS
Ceremony Date: May 20th & 21st, 2023
Location: Anderson Athletic and Recreation Center Fieldhouse
For more information, please visit the University of St. Thomas website at www.stthomas.edu/commencement/.
ORDER CONFIRMATION DETAILS
You will receive an email once your regalia order has been submitted.
The email will be from Build a Grad. This email order confirmation contains all the necessary details regarding your regalia order.
CONTACT US
Regalia services for University of St. Thomas - Minnesota are provided by Balfour.

If you need assistance or have any questions,
please contact us @ 1-800-683-4771 from 8:30 a.m. to 4:30 p.m. (CST), Monday-Friday
or email us @ [email protected].

To better serve you, please include your name, the institution name you are attending and a short message regarding your concern.
We will get back to you as soon as possible.
Thank you!
Continue