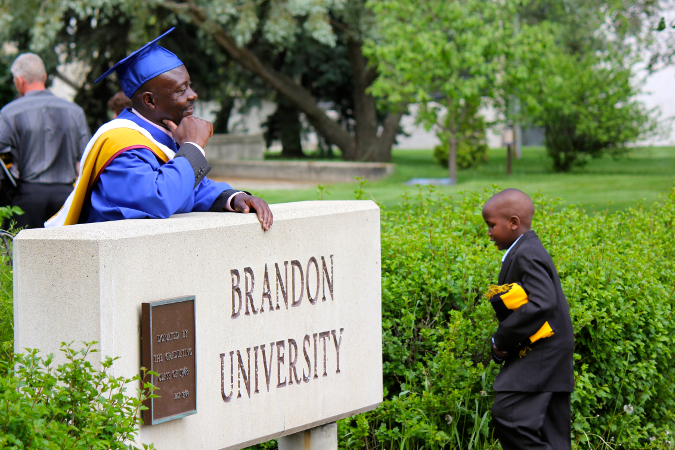 Welcome to the Brandon University
Regalia Registration Home Page
Website Opening Date: April 3, 2020 at 9:00 am (CST) – May 20, 2020 at 4:30 pm (CST)
Convocation Details
Convocation Time and Date: http://www.brandonu.ca.
Location: Ceremonies will be held at Brandon University Health Living Centre 2010 Louise Ave, Brandon MB.
Confirmation Details
Please have your credit card, student number, and ceremony time on hand before beginning your registration.
You will receive two emails once your rental registration is complete.
1. Will contain your ORDER NUMBER and bank transaction information. If you have used a credit card other than your own it will show on this confirmation. The rental regalia will be onsite in your name.
2. Will contain your RENTAL ID and ORDER ID. This is proof that your order is complete. This confirmation contains all the necessary details regarding your rental, pick up, drop off, etc.
Please print these forms or bring them on your mobile device.
Regalia Prices
Online: $31.93 (taxes included) for all degrees.
Onsite: $45.00 (taxes included) for all degrees.
You may purchase your regalia through this site and pick it up onsite. Prices are listed when registering for your regalia.
Pick-up Time and Location
Regalia can be collected at The Henry Champ Gymnasium 1 hour prior to your graduation ceremony.
Drop-off Time and Location
Drop off regalia at the same location immediately following your ceremony.
Cancellations
All cancellations for refund must be received before May 20 at 4:30 pm (CST). Refunds will not be accepted after this date.
Contact Us
Regalia services for
Brandon University
is provided by
Gaspard (Alpha Omega Department)
.
If there are any question or concerns, please call us at 1-800-683-4771 Monday to Friday 8:30 a.m. to 4:30 p.m. (CST) or email us at
[email protected]
.
To better serve you, please include your name, institution name, order number and/or student number in your email. If leaving a phone message please include all of the information and speak slowly as we need to write this information and want to return your call.
Thank you!
Continue