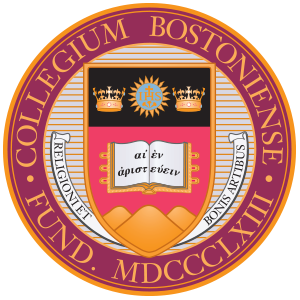 Welcome to the Regalia Registration Home Page for Graduating Students
Regalia Ordering Deadline: September 1, 2020 at 11:59 pm (EST)
PRICING
Purchase Prices
(*All prices are in USD)
Bachelor
$52.00
Master
$58.00
CAGS
$60.00
Foreign Credit Card Transactions
Effective May 6, 2016, a 5% fee will be added to all foreign credit card transactions.
To complete your payment, please call 800-585-5500.
ORDERING DETAILS
Ordering Online
If you order and pay for your regalia online, you will need to come to the Boston College bookstore located in McElroy Commons on the days and times listed below to pick them up, as well as to obtain your rain location tickets. Ordering online will save time and minimize wait times when you arrive at the Bookstore in McElroy Commons. The deadline to order online is September 1st, 2020.
Students ordering doctoral robes may use the link below. The deadline to order doctoral robe is September 1st, 2020 at 11:59pm (EST).

https://buildagrad.com/bostoncollegedoctoral
Ordering In Person
Not available at this time.
Order Confirmation Details
You will receive two emails once your regalia registration is complete.
The first email will be from Build a Grad. This email order confirmation contains all the necessary details regarding your regalia order. Your Order Number will be on this order confirmation.
The second email will be from Balfour. This is your payment receipt.
PICK-UP INSTRUCTIONS
Pickup Instructions to Follow
DROP-OFF INSTRUCTIONS
Drop-Off Instructions to Follow.
If you have any questions, please contact Tina Plotegher, Director of the Boston College Bookstores, at 617-552-2671 or
email

[email protected]

.
REGALIA IMAGES AND DETAILS
NOTE: Images are used for product representation only. Actual product will vary in adherence to academic code specifications.
CONTACT US
Regalia services for Boston College are provided by Balfour.

If you need assistance or have any questions,
please contact us @ 1-800-683-4771 from 8:30 a.m. to 4:30 p.m., Monday-Friday
or email us @ [email protected].

To better serve you, please include your name, the institution name you are attending and a short message regarding your concern.
We will get back to you as soon as possible.
Thank you!
Continue