Welcome to the Student Regalia Ordering Home Page for Alder Graduate School of Education
Congratulations Alder GSE graduates on your achievements!

Now is the time to order your regalia.

For complete commencement details, please visit https://aldergse.edu/commencement-2023/.
PURCHASE ORDERING DETAILS
RENTAL ORDERING DETAILS
Rental Regalia for Master of Education

Full Package:

Rental Gown and Hood with keeper Cap and Tassel
$37.90
Rental Gown and Hood:
$28.95
Gown Only
$17.00
Rental Hood:
$11.95
Cap and Tassel Only
$8.95
Tassel Only:
$2.75
Shipping
$24.95
Regalia will be shipped to the address you provide. You can expect regalia to arrive 1 to 2 weeks prior to your graduation.

Regalia will include a return label. Please return immediately following ceremony.



Regalia not returned by customer within 1 week of ceremony will be billed the full replacement cost of the regalia.

To order diploma frames please visit: www.balfour.com/shop/collections/diploma-frames/shop-by-size/8-5x11.
To order Stoles please visit: www.balfour.com/graduation-stoles.
To order Announcements please visit: www.cbgrad.com/school/AGS.
REGALIA IMAGES
Photo is for product reference only:

Alder GSE student hoods will have sky blue velvet and the lining will be purple with a green chevron. The tassel will be sky blue.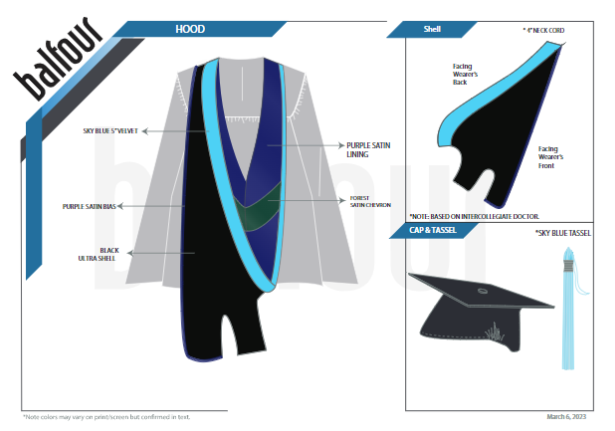 EMAIL ORDER CONFIRMATION
You will receive 2 emails once your regalia registration is complete.
1. The first email will be from Build a Grad. This email order confirmation contains all the necessary details regarding your regalia order. Your Order Number will be on this order confirmation.
2. The second will be from Balfour. This is your payment receipt and contains payment information.
CONTACT US
Regalia services for Alder Graduate School of Education are provided by Balfour.

If you need assistance or have any questions,
please contact us @ 1-800-683-4771 from 8:30 a.m. to 4:30 p.m. (CST), Monday-Friday
or email us @ [email protected]

To better serve you, please include your name, the institution name you are attending and a short message regarding your concern.
We will get back to you as soon as possible.
Thank you!
Order Here